Welcome to FoodArtisans.com. In our fast-paced lives, many of us are looking for a place to slow down and reflect upon the richness of life's simplest pleasures. In her books and culinary workshops, Pamela Sheldon Johns shares the pleasures of food and wine... at the table, in the kitchen, in an artisan's workshop, or simply strolling through the farmers' market. Pamela's world-class workshops in Tuscany, Campania, Piemonte, Emilia-Romagna, Sicily, Puglia, and Cinque Terre are wonderful experiences you'll cherish for years to come. Marche, Umbria,Veneto, Sardinia, and Abruzzo available by request for groups of six or more. Leaf through the pages of our website to discover a world of culinary treasures.
For more information or to be added to our mailing list, please feel free to contact us.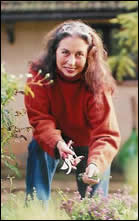 Photo credit: Andrea Wyner
Watch FineCooking's video about a locally-sourced feast with Pamela Sheldon Johns.